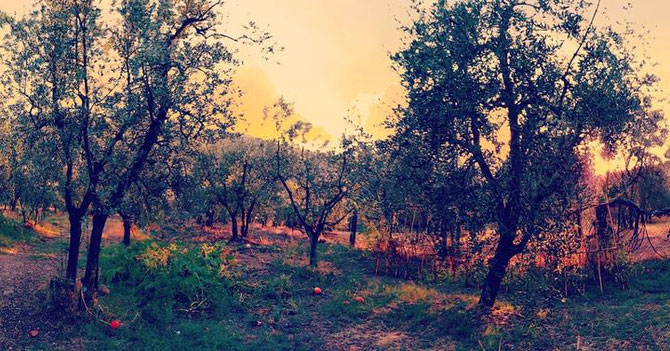 The Olive picking is always a feast for all of us in Tuscany. We meet everybody in the field early in the morning. These mornings are a kind of spoiling of the upcoming winter: we start to see a light fog in the field and the temperature is now more chilly.
People in the family take a 'rastrello' and they start them piking.
Working for hours under the Olive Trees, joking with cousins, looking the old uncle which is always on top of the tree piking the best olives (always the best one are on top 🙄) and shouting to him: Came down!!!
When all the olives are picked we move it all by 'ape car' to the frantoio. The frantoio, oil mill, is the real party place! Everybody goes to the oil mill and they wait there them turn to squeeze olives. During the waiting everybody is talking with the people, waiting there and some wine and food is offered to them. You can wait all the night for your turn, but it is a real party. 
Then finally we have our first new olive oil! So green, so limpid with an intense flavor.
Toasted old bread, garlic, salt and new Evo Oil and you can touch the Paradise. 
We are always so proud for our first squeezed Extra Virgin Olive Oil.
I can organize your tour in Florence with olive oil tasting, or an Oil Mill experience in Tuscany. We'll have fun learning how do the oil tasting and combining fresh and organic food with the new Extra Virgin Olive Oil.
Contact me for all your information at eleonora.catelani@gmail.com. 
Great combination with: Chianina Beef Steak, Fresh Vegetable, Bread Soup.