Grape Focaccia § Schiacciata con l'Uva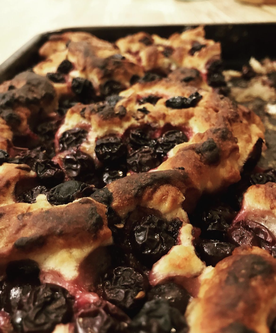 This focaccia or grape bread is usually only found in my local area during the the month of September.
It is a tradition that follows the very seasonal nature of grapes in Chianti area, and it has an extremely close tie with the wine harvest in the fall.
These days, it is usually made with native Tuscan wine grapes known as Canaiolo. 
Local Tuscan grapes mixed with Extra Virgin Olive Oil are the precious ingredients for this great typical 'poor' cake. 

There are many different recipes about it, every grandmother keeps jealous her recipes, but my favorite is my cousin Carlotta's schiacciata!!!
Carlotta follows the real traditional recipes, using salt pasta as the one of the bread, adding some sugar and giving time to the pasta to bump up. After that she adds the grapes and then we wait for the cooking in the oven.
During the cooking, a great sweet smell conquers the home. From the street outside people facing into the house asking: ''Schiacciata con l'uva oggi?'' (trad. 'Are you doing Grapes Focaccia today?).
When the schiacciata is ready we have to wait a while, 'cause grapes are really warm! This is an infinity moment, we can't wait to eat it.
When the schiacciata has cooled down, it is ready to eat finally.
From the first bite I have in my mind the best sweet family memories, from when we were children, to grandma's home, when she made it.
We are doing all of our best to keep our tradition, doing every year in September our Schiacciata con l'uva.
Tip: I suggest to pair the Schiacciata con l'Uva with a good Moscadello di Montalcino or Vin Santo 🥂
Ele"<<